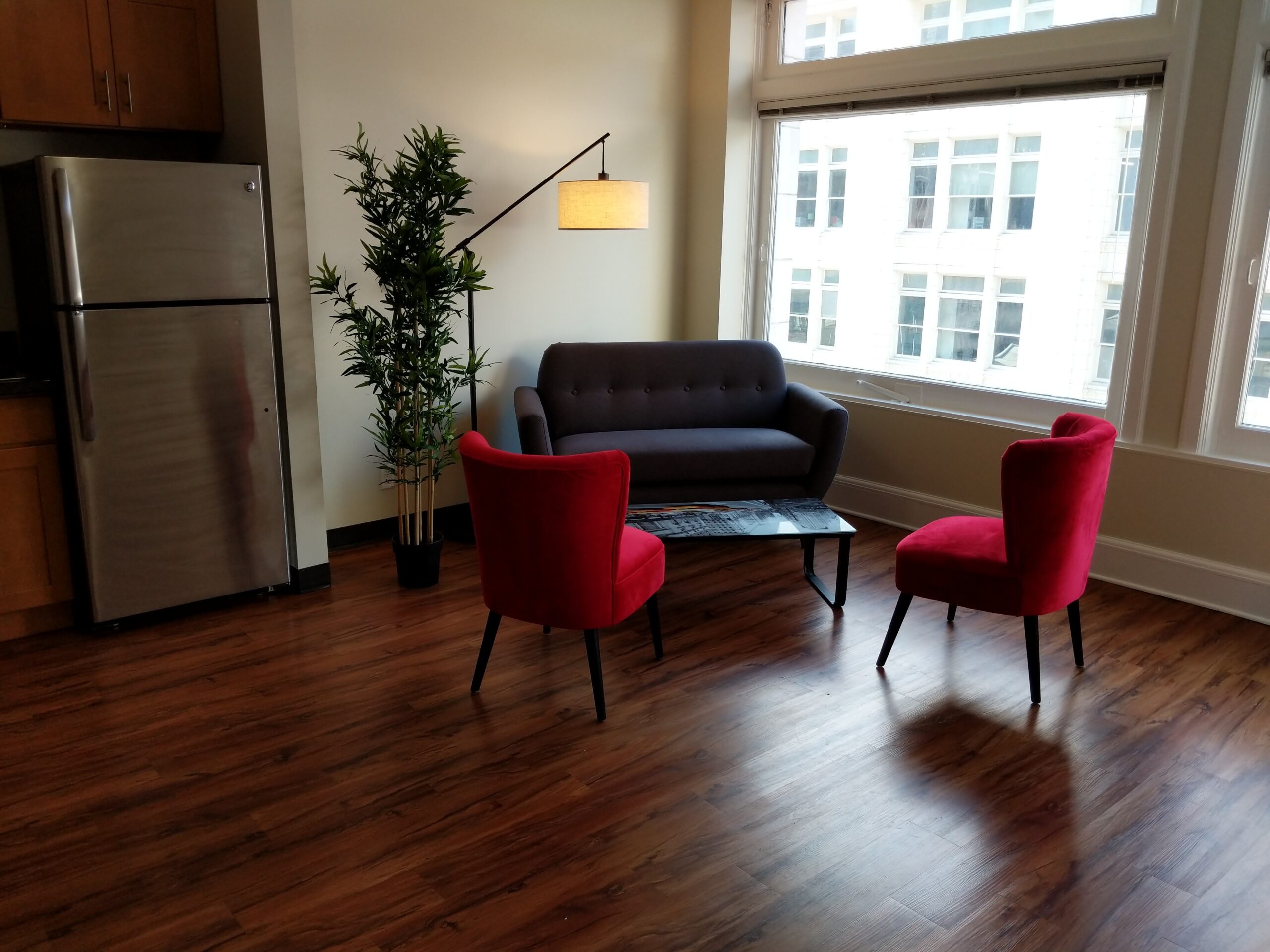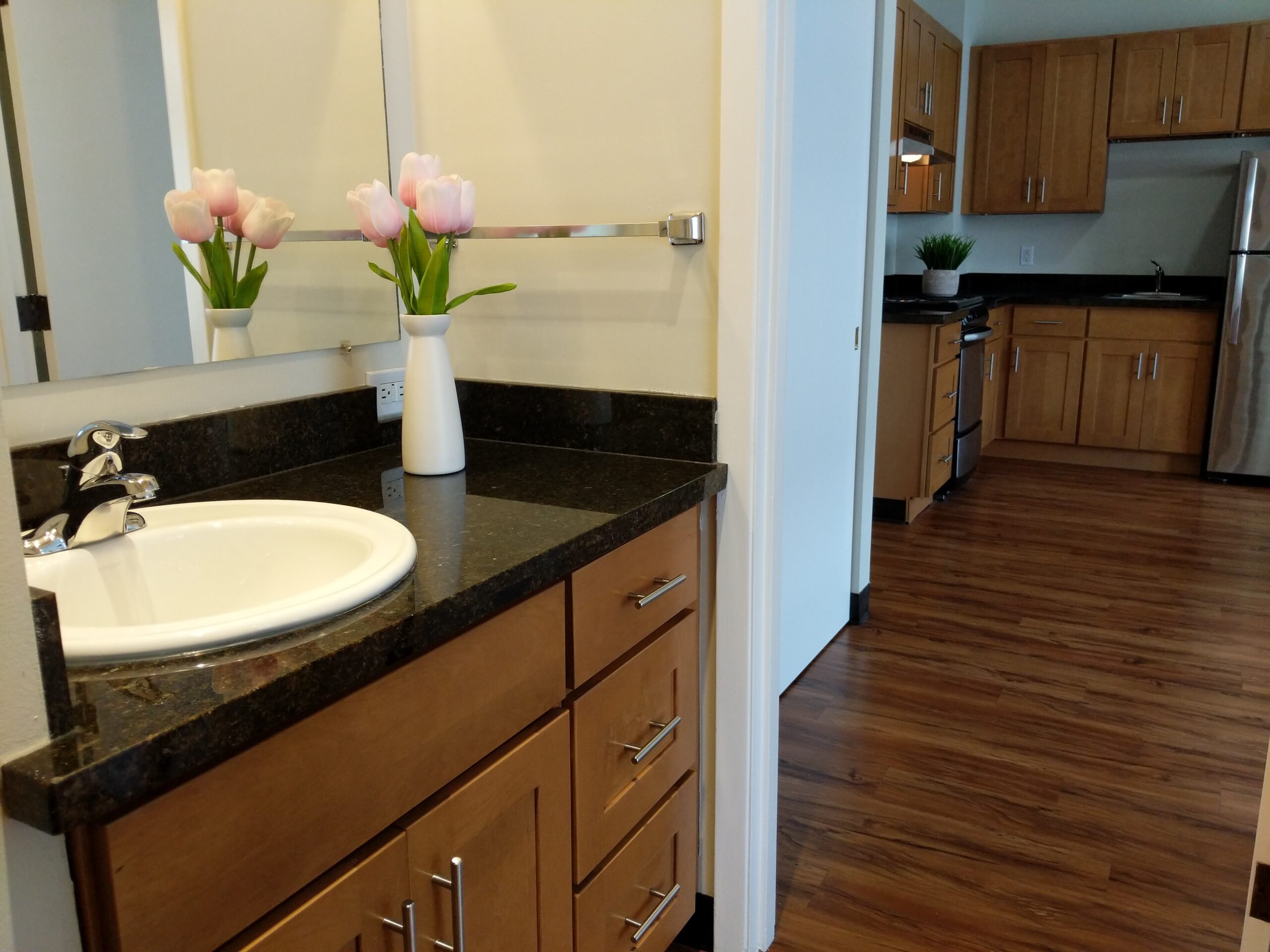 Make yourself at home
Our urban studios and one-bedroom residences are the ultimate downtown living experience.  Our street-facing units have spectacular views and put you right in the thick of the city's hustle and bustle.  Or, choose the quiet oasis of our south-facing units.  Whichever residence you choose, the excitement of downtown is right outside your front door.
Make your own history
The Sixth & Pine Building (formerly the Shafer Building) is a Seattle landmark.  Designed by architect James Blackwell, the terra-cotta building is a classic example of 1920s architecture and is listed on the National Register of Historic Places.  It's a home rich in tradition, waiting for you to make your own history.
See available residences
We're at the corner of Sixth Avenue and Pine Street in downtown Seattle, directly across from Nordstrom.  Drop us a line or come visit.
Join us:  Our application policy
We do not discriminate against any person because of race, color, creed, religion, ancestry, national origin, age, sex, marital status, parental status, sexual orientation, gender identity, political ideology, honorably discharged veteran or military status, participation in a section 8 or other subsidy program, alternate source of income, the presence of any disability, or the use of a trained dog guide or service animal by a disabled person.
Any person residing in the apartment that is 18 years of age or older must apply. At this time, we would like to share with you some of our application policies. This material is also available at our Web site, www.sixthandpine.com.
To apply for tenancy: You must first have a tour of the interior and exterior of the building. Applications are not accepted unless each applicant has viewed the property with us. For applicants from outside Washington State, one member of the group of residents or another individual identified by the applicant must visit the property in person and use Skype, Facetime, or another interactive "real time" method of taking a virtual tour of the property on behalf of those not present in person.
Complete the application and pay the non-refundable application fee electronically through our online portal, or with a personal check, cashier's check or money order (we do not accept cash). An application without proof of identification is not yet complete. We do not accept "comprehensive reusable tenant screening reports." Send a confirming e-mail to us, so we know to look for your application. Then, watch your e-mail for any requests for additional information. You must respond to any information requests within 72 hours. In the case of more than one prospective occupant, the application will not be considered complete until all prospective applicants have submitted their application. We offer 12-month minimum leases and our policies require renter's insurance, a security deposit, no smoking and no pets except support and service animals.
The following information will be accessed as part of the screening of any applications for tenancy: All information on your application for tenancy; your rental history via any identifiable prior landlords; credit reports via a third party consumer reporting agency; public records regarding registration as a sex offender; personal references; verification of employment and/or income (for rental subsidy) amounts; public records regarding civil court cases; any other information provided by the application such as anticipated length of tenancy, tenancy commencement date, etc.
First-in Time policy. We record the date and time of each completed rental application and follow a first-in time requirement policy when screening tenant eligibility. That means we screen tenants in order of when applications are submitted, and we offer the unit to the first applicant with a completed application who meets the minimum criteria. If, after 48 hours, an applicant does not accept, we shall consider the next completed application. For the purposes of noting the receipt of a completed application, the date and time of receipt shall be (i) the date and time that the application is submitted to us in the case of a physical application; or (ii) the date and time that of the e-mail is stamped if submitted electronically; or (iii) the date and time that we receive your application in the mailbox, if submitted by mail. If you require additional time to get language assistance, or due to a disability, you should request the additional time and we shall grant reasonable requests. We do not pre-screen tenants. Your application is complete when you have provided all information and documentation required, and paid the application fee. We will not review applications until received in full. After initial screening, applicants which do not appear to meet our rental criteria will be notified and will not be passed along for further review. If after an initial screening, we determine that more information is required, we will give you an additional 72 hours to provide the additional information. If the additional information is not provided, your application will be deemed incomplete. In the case of more than one applicant intending to share the property together, applications will not be considered until all required applications are completed and received; disapproval of one applicant terminates the application unless the non-disapproved applicant elects to resubmit their application without the disapproved applicant.
Credit history. There is a $45 one-time, non-refundable application fee to be paid for by check, money order or cashier's check at time of application, for which a receipt may be requested by you, which covers the costs of processing and submitting your application to the following credit reporting agency: AppFolio, Inc., 50 Castilian Dr., Santa Barbara, CA 93117, (866) 359-3630. Any persons age 18 or older are considered individual applicants and must pay a separate application fee. We require a credit score no less than 650 and a favorable credit history free of negative credit issues which may indicate a pattern of failure to timely pay financial obligations. Any credit records shown on a credit report as delinquent, charged off or unpaid are grounds for denial of tenancy. You must not have been evicted within the past five years and bankruptcies must be discharged two years before the date of the application. In the event you do not have at least a two-year credit history in the United States, we will consider as an alternative a higher income-to-rent ratio of 4.0-to-one. Lies and omissions on applications are grounds for denial. If your application is denied as a result of this credit report, you may request a free copy of the report and dispute the report's accuracy with the credit reporting agency.
Verifiable source of income. We require that you have a 2.5-to-one gross income to rent ratio. This means that your monthly income must equal 2.5 times the cost of your portion of the proposed monthly rent. You must provide a copy of your most recent paystub and a reference who must verify steady employment. If you are self-employed, you should provide bank statements for the last three months and signed tax returns for at least the previous year to show predictable income. For prospective tenants, all employers are considered equal and we do not advertise or maintain a preferred employer program. In determining this ratio for screening purposes, we will subtract any payment from a Section 8 or other subsidy program from the total monthly rent, to reduce the amount of rent that you would pay out of pocket in the calculation. We will cooperate with you and assist with paperwork to complete or submit information and documentation if you are applying for rental assistance from Section 8 or another rental subsidy. In addition, we will include all verifiable income, including alternative sources of income that are derived from verifiable sources other than wages, salaries or other compensation for employment. This includes but is not limited to proof of monies derived from regular investment earnings, trust income, financial reserves, Social Security benefits, supplemental security income, unemployment benefits, other retirement programs, child support, the Aged, Blind or Disabled Cash Assistance Program, Refugee Cash Assistance, and any federal, state, local government, private, or nonprofit-administered benefit program. If you have a short-term subsidy, the monthly payment of the short-term subsidy will be subtracted from total monthly rent for the ratio calculation, and we will not prorate the monthly subsidy amount over a longer period of time.
Rental history. Unless this is your first rental, you must be able to provide references from previous housing providers for a minimum of 12 months, demonstrating a pattern of meeting your rental or mortgage obligations in a timely fashion, leaving prior properties in good condition, timely issuance of notices of intent to vacate and compliance therewith and not having a pattern of complaints from neighbors or rules violations. If your former landlord(s) do not respond to requests for information within 48 hours of being contacted, that will result in denial of the application due to unavailability of verifiable favorable rental history. For applicants without a prior rental history, you may provide adequate personal references for the equivalent of two favorable past landlord references. Absence of such references will result in denial of the application.
Criminal history. We do not access as part of our screening criteria your arrest record, conviction record or criminal history, except for sex offender registry information, in which case you may provide with your application any supplemental information related to rehabilitation, good conduct and facts or explanations regarding your registry information if applicable.
Application denial. Additional grounds for denial of applications (based upon court records or references) include (i) reasonable likelihood that a past history of applicant or those acting under applicant's control will interfere with the health, safety or right of peaceful enjoyment by other members of the community or cause damage or destruction to the dwelling unit or surrounding property; or (ii) reasonable likelihood based on income and credit that the applicant will not be able to timely satisfy the financial obligations of tenancy; or (iii) reasonable likelihood based on rental or personal history that the applicant may cause damage to the property or become a nuisance to neighbors or the community. Even very well qualified applicants may be denied if another application for the property has already been approved. Please note that, while equivalent applications are processed in the order received, such other factors as the requested date of the commencement of tenancy, may result in priority of another application.
Guarantors. If you do not meet one or more of the above criteria based upon income and credit requirements, you may propose a third-party guarantor whose primary residence is in the United States to guarantee the lease. Guarantors are not accepted where the applicant's prior landlord or personal references do not meet our minimum criteria or in the event any of applicant's credit records indicate a pattern of failure to timely pay financial obligations or were listed on a credit report as delinquent, charged off or unpaid. The guarantor must fill out an application, pass the screening process with (i) a minimum credit score of 730; (ii) no unpaid collections; (iii) no open bankruptcy cases; (iv) no credit records indicating a failure to timely pay financial obligations; (v) a minimum 4.5-to-one gross income to rent ratio (where for purposes of calculating such ratio, rent is the proposed rent of the unit for which the applicant has applied); and (v) a debt-to-income ratio sufficient to cover expenses in event of default. Guarantors not meeting the requirements set forth will result in denial of the application.
Accepting an offer. If you are approved for tenancy, you must accept the offer in writing and pay the security deposit and first month's rent by personal check, cashier's check or money order (cash not accepted) within 48 hours of the time we notify you. If you wish to accept tenancy, you must agree to the occupancy and rent commencement date set forth in the offer you receive. If you do not accept all terms of the offer of tenancy which is made within 48 hours, we will proceed to the next applicant (if any).
Pledges to pay for costs. If you fall behind in rent and are issue a legal notice to pay rent or comply with lease terms, we will accept written pledges of payments from subsidy programs or a charity to pay unpaid rent, late fees or legal costs when the pledge meets certain requirements: (i) The pledge and other payments will get the tenant current on all housing costs (not including utilities) including court costs and attorney's fees already incurred; and (ii) The pledge is in writing and received before the waiting period under the notice to pay or vacate expires; and (iii) There are no conditions on the owner to not evict the tenant for a reason other than what the pledge will address or alter the terms of the lease; and (iv) The pledge must commit to payment within five business days of issuing the pledge. We may refuse the pledge if the subsidy does not pay attorney's fees, if the pledge is received after the expiration of legal notice, or if the pledge requires the landlord to effectively change the lease.
A summary of your rights under the Fair Credit Reporting Act. The federal Fair Credit Reporting Act (FCRA) promotes the accuracy, fairness and privacy of information in the files of consumer reporting agencies. There are many types of consumer reporting agencies, including credit bureaus and specialty agencies. Here is a summary of your major rights under the FCRA. For more information, including information about additional rights, go to www.ftc.gov/credit or write to Consumer Response Center, Room 130-A, Federal Trade Commission, 600 Pennsylvania Ave. N.W. Washington, D.C. 20580.
You must be told if information in your file has been used against you. Anyone who uses a credit report or another type of consumer report to deny your application for credit, insurance, or employment--or to take another action against you--must tell you, and must give you the name and address, and phone number of the agency that provided the information. You have the right to know what is in your file. You must request and obtain all the information about you in the files of a consumer reporting agency (your file disclosure). You will be required provide proper identification, which includes your Social Security number, in many cases, the disclosure will be free. You are entitled to a free file disclosure if:
--A person has taken adverse action against you because of information on your credit report.
--You are a victim of identity theft and place a fraud alert in your file.
--Your files contain inaccurate information as a result of fraud.
--You are on public assistance.
--You are unemployed but expect to apply for employment within 60 days.
In addition, all consumers are entitled to one free disclosure every 12 months upon request from each nationwide credit bureau and from nationwide specialty consumer reporting agencies. See wwwftc.gov/credit for additional information.
You have the right to ask for a credit score. Credit scores are numerical summaries of your credit worthiness based on information from credit bureaus. You may request a credit score from consumer reporting agencies that create scores or distribute scores use in residential real property loans, but you will have to pay for it. In some mortgage transactions, you will receive credit score information for free from the mortgage lender. You have the right to dispute incomplete or inaccurate information. If you identify information in your file this is incomplete or inaccurate, and report it to the consumer reporting agency, the agency must investigate unless your dispute is frivolous. See www.ftc.gov/credit for an explanation of dispute procedures. Consumer reporting agencies must correct or delete inaccurate, incomplete, or unverifiable information. Inaccurate, incomplete or unverifiable information must be removed or corrected, usually within 30days. However, a consumer reporting agency may continue to report information has verified as accurate. Consumer reporting agencies may not report outdated negative information. In most cases, a consumer reporting agency may not report negative information that is more than seven years old or bankruptcies that are more than 10 years old.
Access to your file is limited. A consumer reporting agency may provide information about you only to people with a valid need, usually to consider an application with a creditor, insurer, employer, landlord, or other business. The FCRA specifies those with a valid need for access. You may limit "prescreened" offers of credit and insurance you get based on information in your credit report. Unsolicited prescreened offers for credit and insurance must include a toll-free phone number you can call if you choose to remove your name and address from the lists these offers are based on. You may opt-out with the nationwide credit bureaus at 1-800-567-8688.
You may seek damages from violators. If a consumer reporting agency, or in some cases, a user of consumer reports or a furnisher of information to a consumer reporting agency violates the FCRA, you may be able to sue in the state of federal court. Identity theft victims and active-duty military personnel have additional rights. For more information, visit www.ftc.gov/credit
Any complaints by consumers under Washington State law may be directed to: The Attorney General's Office in Washington, Consumer Protection Division. For information, call the Consumer Resource Center, statewide toll-free number 800-551-4636, statewide toll-free TDD 800-276-9883. Complaints may be made via U.S. Mail or e-mail: http://www.atg.wa.gov/FileAComplaint.aspx. Include your U.S. Mail address with any complaint. http://www.atg.wa.gov/